TeenyTinyKitchen - Big Recipes, Tiny Kitchen - Jedd & Launie Kettler
Written by Launie Kettler
Monday, 08 August 2011 19:37
This is our 100th recipe and to celebrate we made a rich hummus and a spicy naan to use for dipping. Traditionally hummus is a garlicky chick pea dip. But this is a fresh hummus without garlic, which allows the lemon, olives and fresh herbs to shine.
The naan is a little different here too. The tumeric gives the bread a lovely mild yellow color and the cayenne and cumin make it a little fiery – and addictive.
Written by Launie Kettler
Sunday, 07 August 2011 22:56
The other night I was watching an old episode of the British version of "Kitchen Nightmares with Gordon Ramsey." It was fun to watch Ramsey back when he was still ebullient, and not just abrasive. As a restaurant owner struggled to simplify his menu, Gordon bounced up and down then shouted "Bubble and Squeak!"
"Bubble and Squeak?" I thought to myself. "Has Bob Geldof had twins?"*
But a quick Google search brought me the definition of the term. It's a British/Scottish potato/vegetable pancake. Good old-fashioned peasant food. And it sounded delicious.
Written by Launie Kettler
Friday, 05 August 2011 18:21
Unlike gougeres, these are fool-proof crackers. Well, at least I've never had them melt into each other. As another bonus, these are made with ingredients that we always have on hand – so there's no need to hit the grocery store when a cheddar craving hits.
Written by Jedd Kettler
Wednesday, 03 August 2011 16:13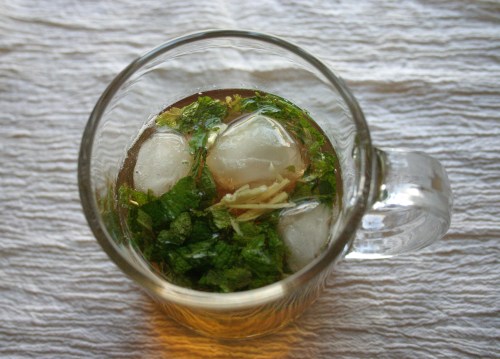 The mint julep is among my favorite mixed drinks for a hot summer day. I'm also a fan of the basic whiskey and ginger, also known by its classic name, the High Ball. Then one quiet Sunday when there was both fresh mint and fresh ginger root in our fridge and a longing in my heart for something slightly different, I decided to bring two of my favorite drinks together.
I'm not sure why I had never added fresh ginger root to a whiskey and ginger, but once it occurred to me it felt like it should have always been. The recipe here isn't as sweet as most juleps and it's more refreshing than a whiskey ginger alone. The crunchy spice of the ginger and the leafy coolness of the mint go really nicely together and the whiskey doesn't get over-powered. I have a new favorite drink for unbearably hot days.
Written by Launie Kettler
Wednesday, 03 August 2011 15:24
When Jedd saw the blueberries in the Maplewood Organics CSA basket he lit up with joy.
"Let's make a blueberry vinaigrette!"
He doesn't often end sentences with "exclamation points," so even if I had wanted to argue with him over the outcome of the blueberries, I wouldn't have.
A delicious blueberry vinaigrette it would be.
"Hey, let's make our own blueberry vinegar too!"
Why not?
<< Start < prev

51

52 53 54 55 56 57 58 59 60 next > End >>


Page 51 of 69