This recipe couldn't be simpler or more flavorful. I was literally sniffing the air while photographing it. Jedd said he drooled a bit when he walked in on me cutting it.
He's decanting wine while I'm writing this, and then we're going to split the remaining two pieces of this savory and cheesy pie.
It's the kind of recipe that begs to be served with cocktails.
And it's a lovely way to play with green tomatoes, without frying them. (Although, there's nothing wrong with that.)
Also, this recipe goes out to my grandmother who left us two years ago. I wanted to bake something today just with her in mind – but therein lies the rub. She was an AMAZING baker. Sadly, I didn't inherit her ability to make stunning sweets. But she loved tomatoes, and a good glass of wine too. So, Grammy – this one's for you. Love, Launie and Jedd
Green Tomato and Cheddar Galette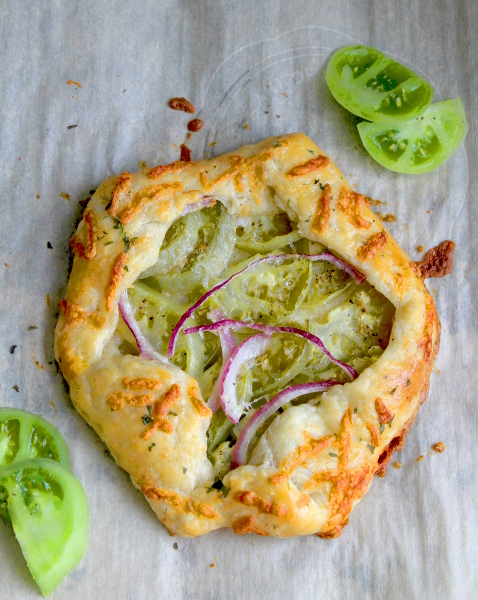 Serves 2 as an appetizer.
Ingredients:
2 green tomatoes
1 teaspoon kosher salt
1-piece chilled butter tart dough (We like this recipe)
1 teaspoon lemon pepper
¼ very small red onion, thinly sliced
¼ cup shredded parmesan
1 egg
¼ cup shredded cheddar
1 teaspoon dried parsley
Instructions:
Preheat oven to 375 degrees.
Slice the tomatoes into ½-inch thick pieces, and slice the pieces in half like a moon. Place tomato slices on paper towels, and salt them with 1 teaspoon salt.
Let the tomatoes sit for 10 minutes, to pull out excess moisture.
Blot dry with paper towels, and reserve
Roll tart dough out until it's roughly ½-inch thick.
Place on a large, rimmed sheet pan fitted with parchment.
Season the tomatoes with pepper.
Place the tomatoes on the dough, and top with onion.
Sprinkle with parmesan.
Pull the dough over the filling, so that it slightly overlaps.
Whisk egg in a small bowl.
Brush the edges and side of the galette with the beaten egg.
Sprinkle cheddar cheese, and dried parsley over the crust.
Bake for 15-20 minutes, or until golden brown and bubbly.
Slice, serve, enjoy!
(Photos by Launie Kettler)